Your Purchase Today Helps Save Lives!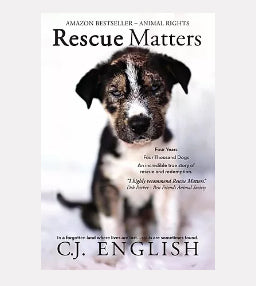 Rescue Matters Book
$20.00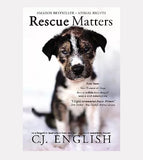 Details
Rescue Matters
"This is a really sweet, inspiring true story. Full of heart and compassion, it's conceivable to imagine RESCUE MATTERS as a family-friendly feature film."
 -BookPipeline
"The compassionate reader will want to peruse this book right away. Anyone who loves animals at all, and certainly anyone with a heart, will love this book." 
- Judge 29, 27th Annual Writer's Digest Self-Published Book Awards.
"If you have a heart, then get a box of tissues and sit down with C.J. English's book "RESCUE MATTERS." it is truly a tear-jerker and, at the same time, inspiring." 
- Judge 37, 27th Annual Writer's Digest Self-Published Book Awards.      
FIVE STARS!
 "I HIGHLY recommend RESCUE MATTERS." 
-Deb Parker, Best Friends Animal Society
Four Years.

Four Thousand Dogs.

An incredible true story of rescue and redemption.

In a forgotten land where lives are lost, souls are sometimes found. When Keith Benning accepted the job as a deputy in a small North Dakota county, he had no idea he was about to face the biggest challenge of his life. Four years and four thousand dogs later, he lost his marriage, a fellow officer and nearly his own life.

By rescuing seventy starving and unwanted animals out of his garage each month, Keith and a small team of volunteers have changed the world for thousands of dogs, and tens of thousands more to come.

Woven with riveting and inspiring real-life rescue stories, Rescue Matters tells a larger tale of tragedy-meets-redemption. A gripping account of how a garage rescue grew into a mighty force that inspired a nation.

C.J. English shares her personal experience inside the emotional and bittersweet world of dog rescue, delivering a heart-wrenching and deeply moving story that has much to teach us about responsibility and compassion.

Rescue Matters is alive with meaning and purpose, proving that it doesn't take a law or government to change the world, all it takes is a few people trying to make a difference to start a revolution.

Not just for dog lovers, but for anyone inspired by the compassion of humans and the resilience of the animals who forgive them.