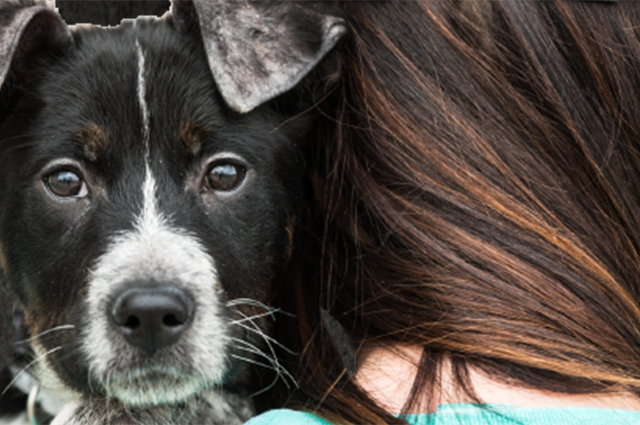 TMAR Adoption Process for those who live outside of North Dakota
Please read through the adoption process carefully before submitting an application.
We are currently processing adoption requests from out of state. Please read carefully before submitting your adoption application.
Step 1 - Submit an Adoption Application
To become an approved adopter, please submit the $25 application fee by clicking the "pay now" button below. This fee is non-refundable and will not go toward the adoption fee.  The adoption fee for out of state dog/puppy adoptions is $350 plus tax. This adoption fee includes a veterinary exam which will be done at least 10 days prior to you picking up your adopted animal. If the state you reside in requires a health certificate this will be obtained at this vet visit. For adult dogs a behavioral assessment will also be included.
Our rescue is volunteer-based and we work as fast as we can to process applications. Once your application and application fee payment has been received, you can expect a TMAR volunteer to contact you within 7-10 days.  Once an adoption advocate has contacted you, you will have 2 weeks to get all necessary information submitted.  If you do not provide all information within 2 weeks your application will be deleted.
We only accept on-line applications.  Please do not print and mail the application. 
If you are approved to adopt a TMAR animal but did not get the animal you initially requested, once approved, we will keep your application on file for 1 year.  Should an animal come up for adoption in the future, you do not need to re-apply, just send us an email to tmaradoptionsteam2@gmail.com stating that you are an approved adopter and would like to be considered for a specific animal.
We highly encourage you to apply NOW so you can be pre-approved for future TMAR animals!
Because we rescue 70-100 animals each month out of a 4 kennel garage, we rely heavily on our fosters. Most of the animals are adopted out of foster homes. Currently most of our fosters are located in Grand Forks or Fargo, North Dakota. If you see an animal on our website you would like to adopt, chances are high that it will be in a foster home in that area. Again- it is the responsibility of the adopter to provide transportation once the adoption is finalized.
Step 2 - Meet and Greet
A virtual home visit is required for all dog adoptions. Because we cannot do an in home meet and greet before you pick up your adopted animal, we will allow you to "return" a dog or puppy if it is not a good fit for your family. You will have one week to return a puppy and two weeks to return an adult dog. You will get a full refund of your adoption fee if returned within the allowed return policy times.
If you rent, please have a copy of your pet policy in hand BEFORE you apply.  If you have an ESA letter or service animals letter, make sure your management company honors it BEFORE you apply.  If you have current pets, please contact your vet for of up to date shot record and proof of spay/neuter. DO NOT APPLY IF YOU DO NOT HAVE THESE DOCUMENTS IN HAND.
Please be aware of any "breed bans" in the area/building you live in before submitting an application.
TMAR does not currently offer transportation services for adopted animals. It will be your responsibility to make suitable arrangements for transportation of the animal to your home within a timely manner.  We do not allow adopted animals to fly. We cannot hold an animal for more than 5 days in foster care once adopted.
Most of our animals come with their first set of shots.  They are not, unless specified, spayed or neutered.  We require any animals adopted through us to be spayed or neutered between 7-12 months of age.  We also require all current animals in the household to be spay/neutered, unless there is a medical reason they can not be.
Step 3 - Pay The Adoption Donation
Once you have been approved to adopt and have decided on the perfect companion, an adoption team advocate will send you an adoption fee invoice via email.
Adoption fee: $350 + tax regardless of age, sex, breed, or size
If you are interested in adopting a cat and live outside of North Dakota, send a message to tmaradoptionsteam2@gmail.com and an adoption advocate will get back to you regarding your request.
Adoption donations go directly back into the rescue and are used for vetting and continuing our efforts to save more lives. By signing the adoption contract you are agreeing to have your animal spayed or neutered within the timeframe mentioned above. The extra cost incurred to spay or neuter your animal is the responsibility of the adopter and will not be reimbursed by TMAR.
We are so excited for you to embark on your journey to adopt a TMAR animal. We think they are the best and we know you will too!
Additional Adoption Questions?
Contact Us Directly
TurtleMountainAnimalRescue@gmail.com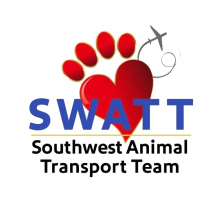 TMAR IN PARTNERSHIP WITH SWATT
$150 Transport Fee + Adoption Fee
FLIGHT ANGEL ADOPTION PROCESS
1. Check out our adoptables page on the TMAR website. Find a puppy/dog/kitten/cat(two/bonded pair) – They must weigh under 18 pounds alone or combined.
2. Apply using our dog out of state adoption application below and check that you want to be a part of our airline transport program. Apply for cats using the cat application below.
3. Once the application is received, an out of state adoption coordinator will reach out via email with what is needed to complete the adoption approval process.
4. Once the approval process is complete, the approved adopter is able to communicate with fosters and decide which puppy is right for them. (The animal must meet the weight limit)
5. When you find the animal to adopt, we will invoice you $350 for an out of state adoption plus the $150 in cabin supply fee (ND sales tax is included on both)
6. Once the invoice is paid, we will set up a vet appointment for a health certificate. This is required by the USDA to transport animals over state borders in all cases.
7. Once we have the health certificate appointment, we can begin working with the airline to find a flight/date to fly your pet home – in cabin with a current or retired airline employee who volunteers to take animals from rescue to adopter – from North Dakota to an airport near you.
8. Once a Flight Angel volunteers to do the transport, we are informed of the flights. This is based on empty seats – flying standby! At this point, the adopter is notified of the date and the time of when their new pet will be coming home! Flights can be at anytime of the day based on standby availability!
Additional Adoption Questions?
Contact Us Directly
TurtleMountainAnimalRescue@gmail.com

SIGN UP FOR OUR MONTHLY NEWSLETTER
Love TMAR? Want to be in the loop and up to date on all things TMAR rescue? Sign up now for FREE and exclusive access to rescue stories and current TMAR affairs.